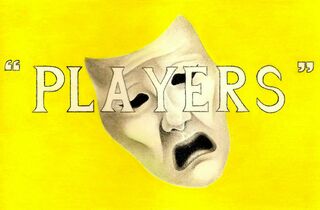 Welcome to the "Players" Wiki
Edit
"Players" is the exciting new webseries from Andrew T.S. Bedgood, co-creator of Life With Brother and CTRL-Z . "Players" follows the production of a play at a fictional community college somewhere in Lower Michigan . Production of "Players" began in September 2012; principal photography of the first episode wrapped up on October 17, 2012. The first episode is currently being edited as the second episode moves to pre-production. A teaser for "Players" using footage recorded for the first episode is expected to be online in November.  Series creator Andrew T.S. Bedgood stated on December 19, 2012 that he had completed editing a rough cut of the first episode (Auditions) of "Players".  Accompanying this announcement was the "Players" Teaser 1 to use footage from the series (an early teaser was attached to the Life With Brother: The Series Finale , but it only featured voice overs from Andrew T.S. Bedgood and Jordan D. Lester with no actual dialogue from the series).  Auditions debuted on Bedgood's YouTube channel on January 16, 2013.
This Wiki was set up to provide insight on the characters, actors, and events of the series as well as production info and insight on related materials or derivative works. The "Players" Wiki will be frequently updated to reflect the status of production.
"Players" is an upcoming mockumentary-style webseries that chronicles the misadventures of a drama group as a new director takes on a production of William Shakespeare's Julius Caesar.
Latest activity
Edit