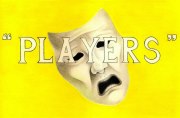 "Players" is an upcoming webseries created by Andrew T.S. Bedgood, co-creator of Life With Brother, CTRL-Z, and The Hollow Men. Development of the series began in early 2012 and is currently in production with series creator, Andrew T.S. Bedgood, working on scripts for a seven-episode first series with a possible five-epsisode series addendum. Filming of the first episode began on September 17, 2012 and wrapped up on October 17, 2012.  On December 19, 2012, Andrew T.S. Bedgood announced that he had completed editing a rough cut of the first episode (Auditions) with a new teaser accompanying the announcement. The second episode is currently in pre-production with the first episode scheduled for release in January 2013.
Carl Weyland is a four-year film student at Bay College located somewhere in Lower Michigan and is working on his final video project before he graduates.
After a series of disputes, the former drama director retires and a new director is hired. The new director, an ambitious student, decides to attempt a production of William Shakespeare's Julius Caesar. Carl Weyland's final film project is a documentary about this production as he wishes to capture it's development through "the eyes of the players."
Production:
Edit
The development of players started in early 2012 when series creator Andrew T.S. Bedgood brainstorming concepts for a follow-up to Life With Brother. After developing what he felt to be a solid concept, Bedgood approached several of his close friends and colleagues to ask their help in the developing of this new webseries. His initial idea was met enthusiastically and he then began collaborating and brainstorming with these colleagues to develop a series outline. While he had originally intended for the series to begin filming before May of 2012, there were some complications in progressing forward and filming was postponed until fall 2012.
After completing principle photography on "Players": Auditions, the original actor in the role of The Director announced her resignation from the show.  While her departure was considered to be an obstacle hindering the development of the series, Bedgood stated in confidence that the series would progress as originally planned.
Bedgood is currently working on scripting the seven episodes that will comprise the first series while collaborating with his friends on developing character bios.
Certain characters in "Players" are named after the performers portraying them--this was decided on by Andrew T.S. Bedgood, Jordan D. Lester, and Colton Ranguette due to the influence of the actors' personalities and quirks on their fictional counterparts.
Episodes:
Edit
| | |
| --- | --- |
| Auditions | Carl Weyland is a four-year film student at Bay College and is working on his final film project.  After the previous director left her position, an ambitious student volunteers to fill in as the new director with plans to do a rendition of William Shakespeare's Julius Caesar. Despite her ambitions, taking on the drama program might be too arduous a task for the aspiring director. |